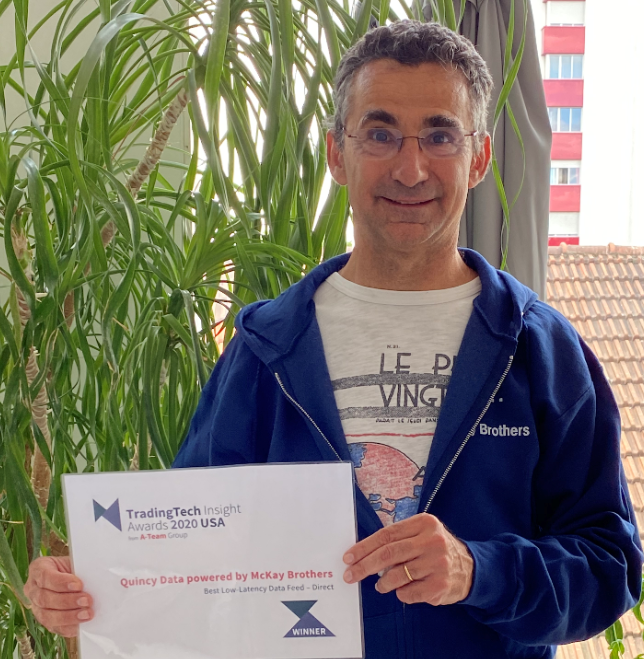 Oakland, California, 30 June 2020 – Quincy Data was named "Best Low Latency Data Feed – Direct" at the 2020 USA TradingTech Insight Awards virtual ceremony today. In February, the company was awarded Best Overall Market Data Provider at 2020 European TradingTech Insight Awards.

Quincy Data and McKay Brothers are driven by the idea that capital markets operate best when all participants have access to the best tools. As the leading global distributor of extremely low latency market data and private microwave bandwidth, Quincy and McKay level the playing field for market participants, eliminating domination by any individual trading firm.

The Quincy Extreme Data (QED) service is a normalized market data feed delivered in key trading centers in North America, Europe and Asia. QED distributes deeper data sets from more exchanges and at the lowest latency than any microwave competitors. The QED service is offered with published prices, discount options and 3-month contracts to limit capital risk. One of Quincy Data's objectives is for smaller firms to be able to acquire the fastest market data, which was often outside their reach prior to QED's 2012 launch. Quincy's market data services are distinguished by a global support team and client portal that allows for continuous monitoring. Quincy further enhanced QED's value to firms by over the last twelve months significantly lowering the latency of QED between Illinois and New Jersey.

In 2019 the company launched the Quincy Raw Data service, offering the lowest latency market data on US equities (NYSE, Nasdaq and Cboe), once again re-defining the market for critical financial market data.