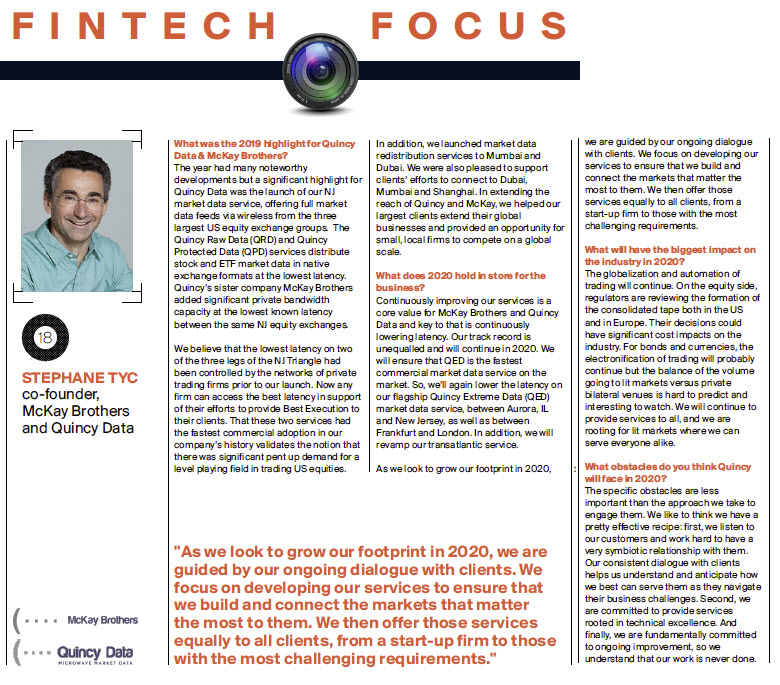 The full text is available below.
What was the 2019 highlight for Quincy Data & McKay Brothers?
The year had many noteworthy developments but a significant highlight for Quincy Data was the launch of our NJ market data service, offering full market data feeds via wireless from the three largest US equity exchange groups.  The Quincy Raw Data (QRD) and Quincy Protected Data (QPD) services distribute stock and ETF market data in native exchange formats at the lowest latency. Quincy's sister company McKay Brothers added significant private bandwidth capacity at the lowest known latency between the same NJ equity exchanges.
We believe that the lowest latency on two of the three legs of the NJ Triangle had been controlled by the networks of private trading firms prior to our launch. Now any firm can access the best latency in support of their efforts to provide Best Execution to their clients. That these two services had the fastest commercial adoption in our company's history validates the notion that there was significant pent up demand for a level playing field in trading US equities.
In addition, we launched market data redistribution services to Mumbai and Dubai. We were also pleased to support clients' efforts to connect to Dubai, Mumbai and Shanghai. In extending the reach of Quincy and McKay, we helped our largest clients extend their global businesses and provided an opportunity for small, local firms to compete on a global scale.
What does 2020 hold in store for the business?
Continuously improving our services is a core value for McKay Brothers and Quincy Data and key to that is continuously lowering latency. Our track record is unequaled and will continue in 2020. We will ensure that QED is the fastest commercial market data service on the market. So, we'll again lower the latency on our flagship Quincy Extreme Data (QED) market data service, between Aurora, IL and New Jersey, as well as between Frankfurt and London. In addition, we will revamp our transatlantic service.
As we look to grow our footprint in 2020, we are guided by our ongoing dialogue with clients. We focus on developing our services to ensure that we build and connect the markets that matter the most to them. We then offer those services equally to all clients, from a start-up firm to those with the most challenging requirements.
What will have the biggest impact on the industry in 2020?
The globalization and automation of trading will continue. On the equity side, regulators are reviewing the formation of the consolidated tape both in the US and in Europe. Their decisions could have significant cost impacts on the industry. For bonds and currencies, the electronification of trading will probably continue but the balance of the volume going to lit markets versus private bilateral venues is hard to predict and interesting to watch. We will continue to provide services to all and we are rooting for lit markets where we can serve everyone alike.
What obstacles do you think Quincy will face in 2020?
The specific obstacles are less important than the approach we take to engage them. We like to think we have a pretty effective recipe: first, we listen to our customers and work hard to have a very symbiotic relationship with them. Our consistent dialogue with clients helps us understand and anticipate how we best can serve them as they navigate their business challenges. Second, we are committed to provide services rooted in technical excellence. And finally, we are fundamentally committed to ongoing improvement, so we understand that our work is never done.